Being exposed to and interacting with music has many benefits for children, starting at a very young age. Music helps children develop multiple skill sets by exercising different areas of the brain simultaneously, in both the left and right hemispheres. Here are some of the great benefits to music in the classroom.
Music Helps Develop Vocabulary
Music is a powerful vocabulary teaching tool. By singing along with the music, children quickly learn new vocabulary in a more engaging way than traditional vocabulary teaching techniques.
Music Can Increase Children's IQs
In a study by the University of Toronto, it was found that children who were given music lessons experienced higher IQ growth compared to children who were given other types of art lessons, or no lessons at all.
Improved Coordination
Playing and dancing to music improves a child's hand-eye coordination as well as balance and motor skills, much like playing sports.
Increased Language Development
Listening and singing along to the lyrics of songs aids in the development of language. This is especially rewarding when your child is learning two languages, like at Spanish for fun!. Singing and listening to music are valuable ways to practice a new language.
Improved Spatial-Temporal Skills
As children learn to read and play music, they acquire spatial-temporal skills, the ability to visualize elements that should go together. This skill helps them in subjects like problem-solving and math.
Improved Memory
When singing a song that they've heard, or playing music on an instrument, memory is constantly being exercised and improved.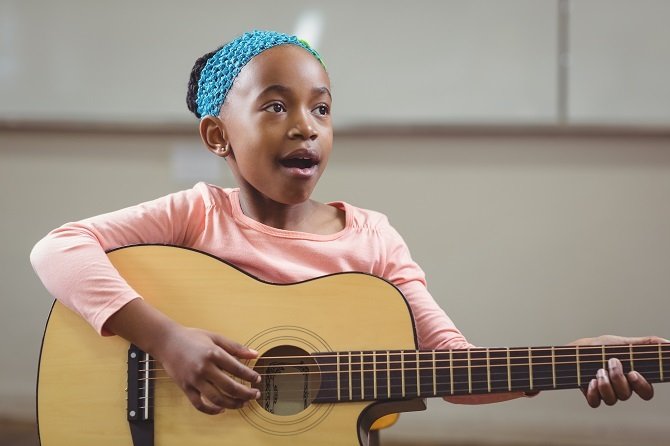 Boosted Confidence
When children learn to play a song, or master a song they were previously having trouble with, they feel proud of their achievement, and feel a boost in their self confidence.
Music is a great way for children to learn, and is especially useful for learning a new language. To experience more benefits from music and language education at home, we recommend that you purchase our Sff! CDs, with original Spanish songs that your children will love and learn from. They are specifically designed to follow along with our curriculum, enhancing the vocabulary we focus on in class during each unit. The CDs are available for purchase at each of our four locations: Duraleigh, Glenwood, Cary, and Wake Forest. Call us today at 919-881-1160 to learn more about us or to schedule a tour of any of our campuses.