As the parent of a preschooler, you want to learn all you can about the things you can do to promote your child's development. You may have already addressed matters like ensuring they have the right toys, eat nutrition rich foods and are exposed to experiences that stimulate their minds. However, it's just as important not to forget the little things, such as make-believe play.
Make-believe play
It has been established that play for preschoolers is their way of learning. It is not uncommon to find a child pretending to be someone else at play. Young boys and girls may pretend to be superheroes, chefs, teachers or the president. This kind of play has been found to be very important in early childhood development. Children get to act out what they see and experience in real life, or what is on their minds. As such, it also serves as a form of self-expression.
Multi-faceted outlook
Make-believe gives your child the ability to think in different ways at the same time. For instance, in a game in which your child is playing the teacher and the dolls are the students, they will have to act out two or more roles. This builds imaginative capacity in expressing what different people would do and how they would behave.
Social skills
Another great thing about make-believe is that whenever a child is playing with other children, he or she learns to negotiate and come up with agreements on what they will do and how they will do it. This is a very important negotiation skill that will help them throughout life to live harmoniously with others. As you can see, it's essential for children to have opportunities to play with others to acquire the social savvy they need.
Energy Use
Preschoolers have lots of energy, the best approach is to allow them to expend it. Encourage them to engage in healthy, creative play as much as possible. It will help them use up their energy stores while they gain vital cognitive and social skills — and you will benefit if they're too tuckered out to be the little dervishes they can be.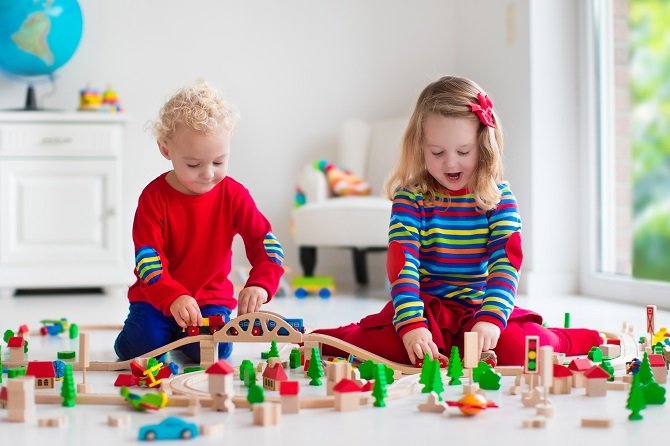 Choose Spanish for fun!
The role of play and fun in the development of young children is so important and Spanish for fun! recognizes this. Our immersive curriculum will provide your child with play-based, Spanish language learning. We invite you to visit any of our four campuses to get a first-hand look at our program. Get in touch with us today. Call 919-881-1160 or complete the form on the homepage. We look forward to showing you why your child will thrive with us.