September 8 is International Literacy Day, so we want to share some recommendations for age-appropriate literature suitable for young children.
For children especially, reading books can be like opening a magic door that stimulates their creativity, inspires their imagination, and provides them opportunity to gain knowledge about the world around them.
From a very young age, children should be exposed to books and special times to read, not only to develop skills but to also build strong bonds of connection with readers and the act of reading.
Reading stories with children allows us to:


Encourage language.
Encourage memory and attention.
Encourage active listening.
Stimulate creativity and imagination.
Encourage the love of reading and stories.
Developing knowledge of facts and events.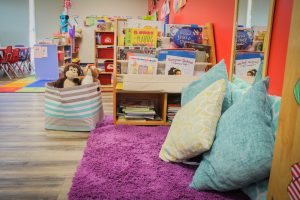 Providing a special time and place to read with your child makes it even more meaningful. It could be part of your bedtime routine, on comfy cushions on the floor, or in a "magical space" you create together with blankets in their room. Imitating voices and being expressive during story time adds to the magic of reading together!
What type of books will most appeal to your young child?

0 months to 1 year:
Books with fabric, varied textures, board books and washable books allow infants to manipulate and explore the idea of what a book is. Large and colorful images will also visually stimulate babies. The reader can point out items and figures in illustrations and name them aloud, in order to stimulate language exposure.
1 month- 24 months:
Young toddlers will love books with sounds and books with flaps or windows to open and close. Books that explore concepts like colors, shapes, etc. are also great at this age. They love books about animals, and readers can play games like, "What sound does the dog make?" or "What sound does the cat make?" while pointing to words and illustrations.


2- 3 years

Stories for older toddlers should be short and relate to their daily lives. For example, stories that talk about family like grandparents, parents, or pets, and about activities like using in the bathroom or going to the park will appeal to these children.
4 years
By this age children are ready to hear stories with magical and fantasy characters like fairies, pirates, dragons. Books can be longer, and readers can even invent stories or change the stories around with the children. In addition it is possible to expand on the reading experience with your child. You might ask your child to draw their favorite character or talk about what they like most about the story.