Today we're sharing some tips that will help you to have fun this summer and make the most of shared moments with your family, especially if you are planning to travel and want to enjoy the warm weather outdoors with your young children.
SUN EXPOSURE & INSECT BITES:
First, keep in mind the protection of your child's skin – both from sun exposure and insect bites. Use a sunscreen with a SPF of at least 30 that is also water resistant, and try to apply it regularly. A hat and glasses along with a light shirt with long sleeves will also help your child to avoid sunburn. Direct exposure to the sun should be avoided as much as possible, so shade from umbrellas or parasols can be helpful. Consult with your pediatrician to know what insect repellent and sunscreen are most appropriate for your child's age.
WATER SAFETY: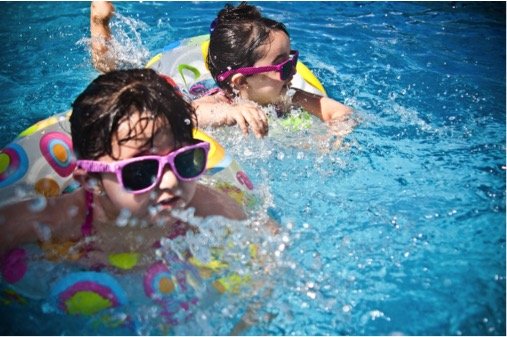 Be vigilant watching children while swimming; make sure they have appropriate floatation devices, as needed, and avoid contact with strangers. As a precaution for younger children, try to stay near available lifeguards, in case of emergency.
Apply sunscreen, as recommended by the child's pediatrician, 30 minutes before entering the water and at least every two hours after, so that it does not lose its effect, due to contact with water.
If your child has a rash or irritation on the skin, he may want to avoid contact with saltwater and chlorine in swimming pools, to limit additional irritation.
Try to acclimate your child to the temperature of the water, first with hands and feet, before entering completely into the water, so your child can enjoy the water more.
DIET:
In summer, children should consume a "balanced and varied" diet. It is necessary to avoid excessive food between meals, especially sweets, salty snacks, and fast foods.
At this time of the year children should eat light meals prepared with antioxidant-rich fruits and vegetables, to protect against cellular aging caused by the sun. Ice cream and yogurt are good choices, too.
Remember to keep children hydrated, preferably with water, and to avoid sugary drinks. Babies under six months of age only need breast milk or formula to hydrate.
ADDITIONAL RECOMMENDATIONS:
Always bring a change of light clothes when you are going to be outside, especially when traveling.
For babies, avoid extreme changes in temperature when possible. Be aware of the temperature indoors, as well; if it is hot, fans may be better to acclimate very young children. Or change the air conditioning temperature gradually since at very young ages, they cannot yet regulate their own body temperatures.
If the heat is intense, babies can be clothed only in a diaper, provided they are not being exposed directly to sun. Parents should also monitor the warmth the baby's skin, especially the chest and back.
Children should be monitored continuously and well hydrated, with plenty of fluids such as water and natural juices.
Remember that sun protection and proper nutrition are the best shields to keep children safe with the heat and the sun's rays, so using them correctly is essential. Enjoy the summer!