— by Karina Martinez, Spanish for fun! Regional Manager
Two months ago, I traveled with Ms. Gabriela Lowry, founder of Spanish for fun!, to Lima, Peru, her native country. During this trip, I was able to gain knowledge visiting childcare centers and preschools, and had some wonderful bonding time with Ms. Gabi. It was a fantastic experience that enriched my perspective both personally and professionally. It also helped me better understand the Sff! Vision and Mission. I am very excited for the growth this may bring to Sff!
First, we visited different preschools and childcare centers called "nidos" in Lima. The nidos operate from 8:30am to 12:30pm, which differs from what we offer here. We also visited places that had different philosophies, beliefs, and curriculums; but, they felt similar to the ones we have in North Carolina.
It was gratifying for me to see centers full of harmony and peace. The idea that "taking care of children is a gift" was a core part of their philosophy, as was how they internalized the learning process as a way of sharing the experience with the children they care for. Additionally, teachers of Early Childhood are considered professionals and are treated as such, which is great for having better growth opportunities. With these visits, we brought back a lot of experiences, ideas and knowledge to be shared with our team at Sff!.
We also talked with many professionals who exposed us to different teachings. For example, Reggio Emilia, where their philosophy is based on Aucouturier — a psychomotor education practice, and Acton Academy, which is founded on the Socratic teachings. These were two different philosophies we learned about while in Peru. This exposure was an important part of our visit to obtain valuable information that will be passed to our staff and used for improving our curriculum.
We also met with a Spanish teacher who worked at a bilingual kindergarten, and uses a fun pronunciation teaching methodology with "Conejin," a soft animal that has been her "assistant" for years. We've already contacted her for a training for our staff! We rarely find this training locally.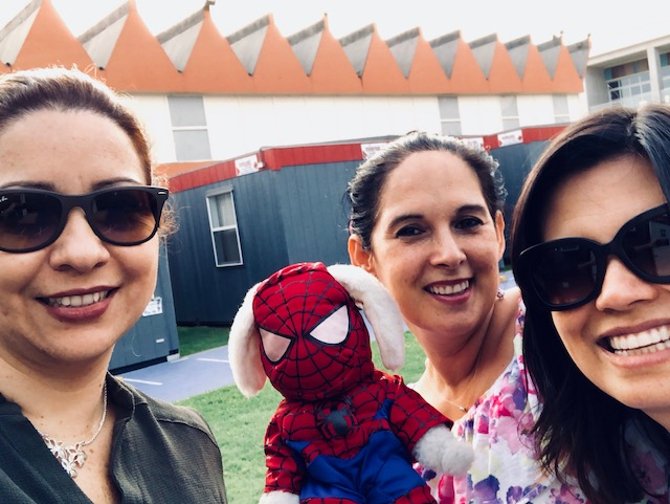 Additionally, we had the opportunity to talk with an app developer about bringing one of our future projects to life. We saw their proposal and discussed the possibilities it would bring for us at Sff!. We are very excited about this next step!
Last, but not least, the time shared with one of our founders was priceless. We had fun and enjoyed the delicious flavors of Peru. I also met a lot of people close to Ms Gabi: her family, high school friends, university friends, and friends that have known her all her life. This created unforgettable experiences for both of us. All in all, our bonding time was great to build a stronger relationship.
I just want to say a big thank you to Ms. Gabi for being such a warm host, as well to all of her relatives and friends for the great time spent together. I have loved all the opportunities at Sff!
—
If you are searching for a preschool that will offer your child an educational headstart, Spanish for fun! is your best option. Get in touch with us today to schedule a tour of any of our four campuses, two are located in Raleigh, one is in Cary and the other is in Wake Forest. Call 919-881-1160 or complete the contact form on our website. We look forward to showing you why your child will thrive with us.