Would you describe your toddler as a ball of energy? Ever wish you had a tenth of that energy running through your veins? Well, you may not believe it, but this is part of what it means to be a healthy toddler. In fact, if he preferred to just sleep all day, you would be worried, and rightly so. On the other hand, keeping up with him could easily wear you out.
Perhaps hearing stories from other parents like you would help you relax. Knowing you aren't alone is very therapeutic.
I was blessed with children who are exactly like me, although this blessed comes with the same insane amount of energy I have. My mom loves to tell stories about me as a kid, usually at family dinner, during the holidays. The one that she never fails to tell is about me at age 3 or 4 and the adventures my parents had with me at dinner time.

She goes on to tell about the super energized beast that joined the dinner table at times to sit with them. "CJ would take one bite, climb down off his chair, run around the table 3-4 times, climb back in his seat, take a bite and back down to do some more laps."

I now have mini-me's and it continues to be a blessing, as long as I can harness that energy through a positive means. Read more at Wild Twin Tribe…
You might find it helpful, for perspective, to hear what you were like at your toddler's age. Ask an older relative or family friend to tell you about yourself. You might discover that your child is merely continuing a rambunctious tradition.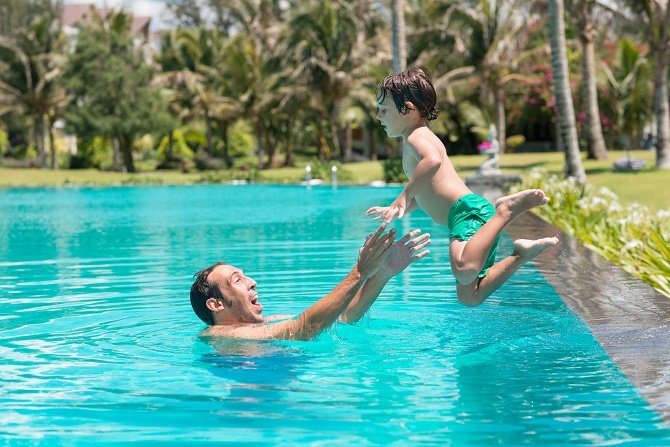 As you've no doubt realized by now, your toddler's energy isn't going to wear down for a while. It's going to feel like someone is hitting the refresh key each morning for some time. The good news is there are many ways to manage this energy. Directing it toward a dog is a great option.
Watching the relationship between dogs and children can be beautiful, but as every child turns into a teenager, every baby turns into a toddler and a bit of "full-on" playing becomes inevitable. Sophia especially has a huge amount of energy, which, luckily for me, Frank usually enjoys. He plays so lovely with her and runs around with a toy, she chases him giggling and then he turns to give her the toy back…. But on some occasions, when he wants to chill, Sophia does not get that and she wants to keep going.

To try and manage her energy around Frank and to calm the situation down, we decided to teach Sophia to gently give treats to Frank, getting her to make him follow her commands, such as "sit," "high five," or "stand." Read more at Pooches and Prams…
A child-friendly dog can help you to keep your toddler entertained and under control. But, even your family fido will want a break from time-to-time, so let's look at more ideas.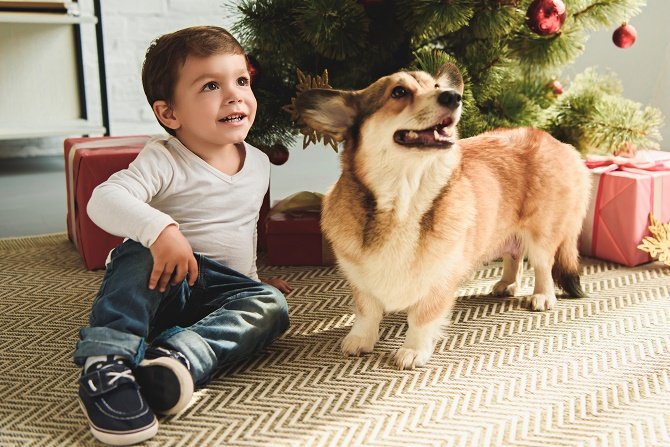 With toddlers, creativity is everything. That's why having lots of ideas on standby is always helpful. Here are some of them:
Dumpster Diving
No, not a dumpster in an alley. A homemade dumpster that you erect from a large cardboard box.

First step is to find a large cardboard box with enough room for your toddler to explore inside of. A sandbox pit in the backyard can be just as effective, but this way requires less dirt.

Now fill the cardboard box with items such as newspapers, packing peanuts, shredded paper, something that they have to search through. Then throw in some empty recycled bottles and cereal boxes, to give it more of a dumpster-like feel.

Have your toddler find a specific amount of small toys like cars, army guys, trading cards, whatever you can come up with. Hide the toys then drop the little ones in the 'dumpster' and have them search for the items. Read more at Our Family World…
You don't have to spend a fortune to get the items your toddler needs. You'd be surprised what you can come up with right at home.
As your child grows up, create opportunities for him or her to interact with caregivers who understand these unique needs. If you take a look at Spanish For Fun!, you will discover it's just such a place. Get in touch with us today to schedule a tour of any of our four campuses, two are located in Raleigh, one is in Cary and the other is in Wake Forest.
Call 919-881-1160 or complete the contact form on our website. We look forward to showing you why your child will thrive with us.