Daycare Cary, NC!

SPANISH FOR FUN!
Our program is designed to help students become bilingual at very young age, giving them a tremendous learning advantage for the future.
Our students learn Spanish in a very natural way; playing and having fun.
SFF! Cary developed their program in a nurturing and safe environment appropriate for infants and for children of preschool age. Our strengths include dedicated and enthusiastic teachers, who teach their native language respecting the rhythm and development of each child.
 Cary, where diversity and learning meet fun!
Reviews for SPANISH FOR FUN! Cary
Hallie Craft Farrell
My 9 month old is so happy every day walking into Spanish For Fun! These ladies have made my transition back to work and first year in daycare so comfortable and confident! They really love my baby like he is their own and take such wonderful care of him and it shows in how excited he is to see his teachers and friends each day!
Carrie Boring
Teachers, staff, education, cleanliness, safety, security, everything is fantastic about SFF! My children love it!
Lauren Yates
Great staff that truly love and care for children. I can't say enough good things about this facility!!!
Honey Thakrar
I love this location of Spanish For Fun! I was looking for a place where my son would learn spanish but where they would also be loving and caring at the same time. You can tell that all the teachers truly care for the kids and always have their best interest in mind. All the staff is fantastic and always do what they can to accommodate different needs. Read More
The teachers are very affectionate with the kids which makes them feel secure but, they also make sure that the kids follow the rules and learn good manners and discipline. My son had a hard time at first because this was his first time away from home but the teachers worked hard to make him feel happy and comfortable and now he loves going to school everyday. I highly recommend SFF in Cary and won't doubt for a second about putting my next kid here when the time comes.
Juanita Henne
Love the staff!!! And the staff seems to genuinely love my kiddo! :) They always have a smile on their faces. When I drop off and pick up if does not feel that I am leaving my little girl with employees of a childcare facility, but that I am leaving her with extended family, and that gives me such joy and peace of mind :)
Jamie Kerry
My son has been at Spanish for Fun part time for a year now, and he loves it. Although his speaking isn't fluent yet, his listening comprehension nearly is, and he has just turned 3. The teachers are so sweet and nurturing, and they always have a smile on their faces. I love that my child is being exposed to different cultures so young, and that he has the opportunity to be bilingual at such a young age--all while in a fun, loving environment that really values young children.
Contact Us
SPANISH FOR FUN!
Cary 100 Endeavor Way
Cary, NC 27513

(919) 677-7114

919-677-9290
Meet Our Cary SFF! Director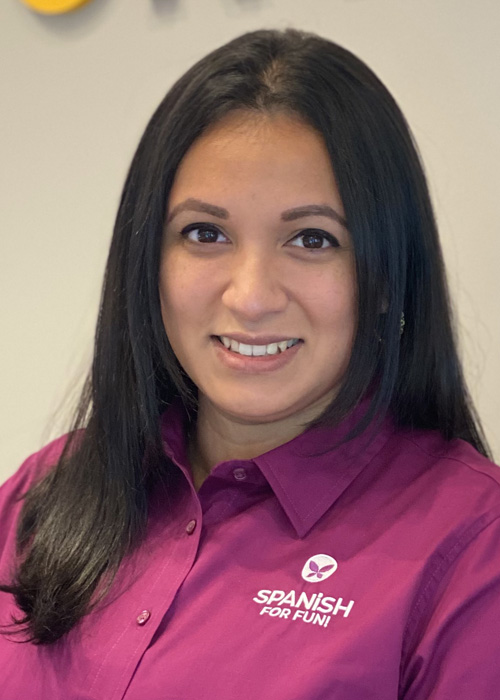 Luvia Curley,
Director of SFF! Cary
I am Luvia Curley, and I was raised in New York by two Guatemalan parents. I am fully bilingual in Spanish and English and have grown to appreciate the value of having this wonderful ability.
My personality is very creative, full of imagination and of course lots of love for everyone around me.My experience has ranged from medical to educational, and in each position I have held, I have used my translating skills quite frequently. I am always looking for an opportunity to learn and grow, thus coming to SPANISH FOR FUN! has given me this wonderful opportunity.
I am currently continuing my education in Early Childhood Development to embrace my passion for learning. Through my efficiency, dedication and commitment in my role as Director, I look forward to helping our families here at SPANISH FOR FUN! and our communities.
Our Teachers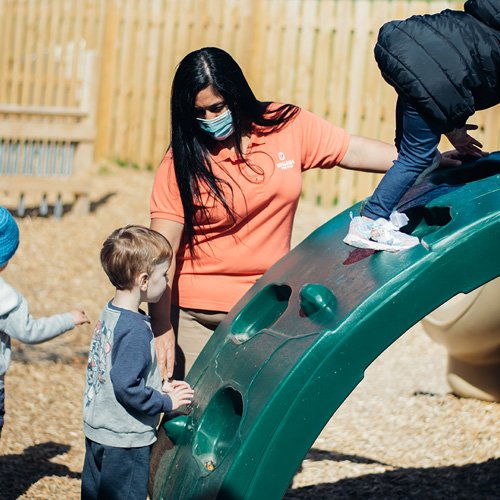 Passionate, Professional
and Nurturing.
Cary SFF! teachers provide a supportive atmosphere that encourages children to develop physically, socially, emotionally, and cognitively. Our staff also cultivates relationships with parents through involvement and communication.
Our curriculum is taught entirely in Spanish so your child will learn Spanish in a fun, natural way. Children exposed to other cultures are inspired to explore a world beyond their own. Therefore, our bilingual teachers are trained in the latest language acquisition teaching methods. 
Schedule a Cary Location Tour!
Call 919-677-7114 or fill out the form and we will contact you!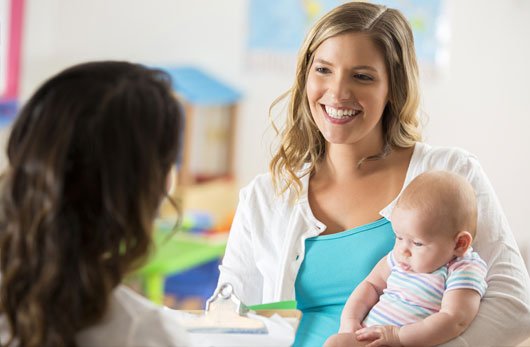 Want to know if SFF! is the right fit for your family? We understand that choosing the right childcare program for your family can feel overwhelming. We encourage you to take a tour of your desired location so that you can check out the facilities, meet the staff and learn more about our unique curriculum. We are looking forward to meeting you!